TEN YEARS OF IGNORANCE – TEN YEARS OF GRUMO!
Saturday, 24th May 2014 – Freakout Club (Bologna)
For our 10th anniversary, ScimmiaBastarda Records presents: BORN TO BE GRIND FEST Vol 1! Eleven bands, eight from almost all Italian + three important foreign guests (United States, Denmark, Hungary), great beer, vegan food, metal/punk underground distros and almost 8 hours of extreme music, from grindcore to thrashcore… an event dedicated to underground noise! Leave at home all the antipathy, bring back the earplugs.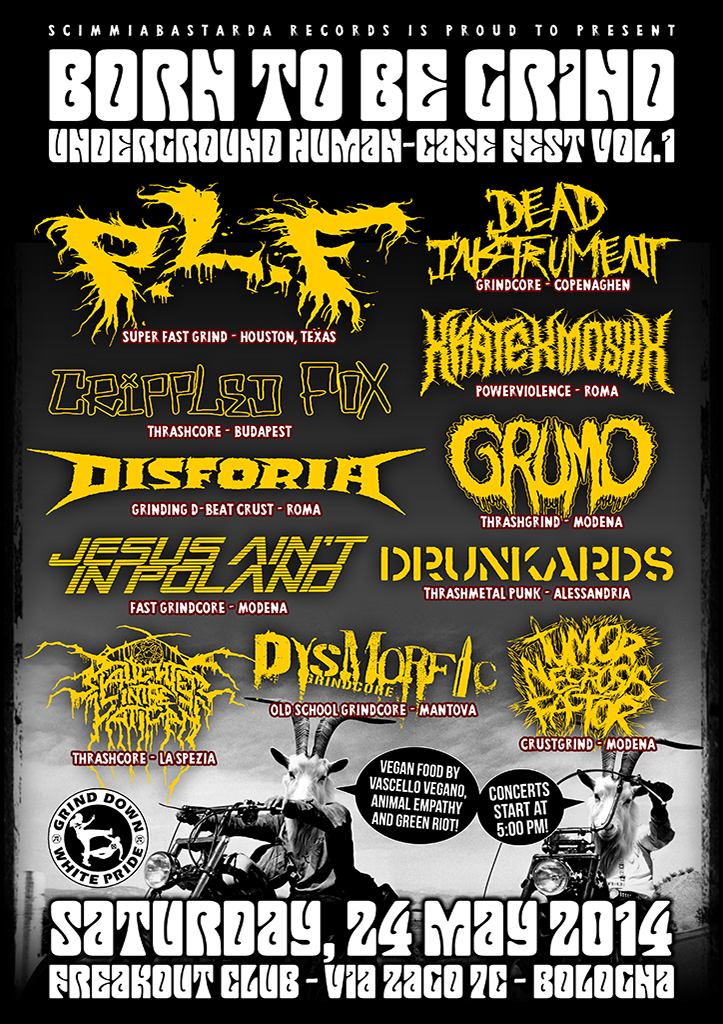 Official schedule:
02.30-03.00 • JESUS AINT IN POLAND
01.45-02.30 • KATE MOSH
01.00-01.45 • P.L.F.
00.15-01.00 • DEAD INSTRUMENT
23.30-00.15 • GRUMO
22.45-23.30 • DISFORIA
22.00-22.45 • DYSMORFIC
21.15-22.00 • CRIPPLED FOX
20.30-21.15 • SLAUGHTER IN THE VATICAN
19.45-20.30 • DRUNKARDS
19.00-19.45 • TUMOR NECROSIS FACTOR